Hema Malini and Dharmendra's daughter, Ahana Deol, gave birth to twins on November 26th. Find out more about the latest Bollywood celebrity news with Entertainment's Saga!
Ahana Deol Gives Birth!
In a story on Instagram, Ahana Deol confirmed that she gave birth to two baby girls.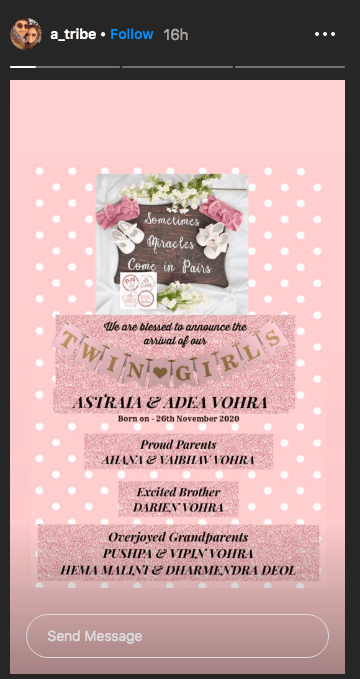 The Instagam story read:
"We are blessed to announce the arrival of our twin girls, Astraia and Adea Vohra. Born on – 26 November 2020. Proud parents Ahana and Vaibhav Vohra. Excited Brother Darian Vohra. Overjoyed grandparents Pushpa and Vipin Vohra, Hema Malini and Dharmenrdra Deol."
Along with this, Ahana Deol's elder sister, Esha Deol also took on social media to announce the wonderful news. Here's what Esha Deol's Instagram story said: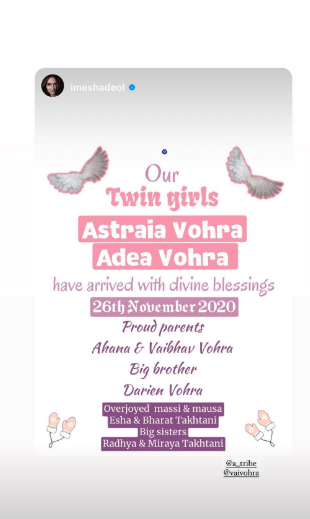 Ahana and her husband, Vaibhav Vohra have been married since 2014. They also have an elder son, Darian Vohra. Alongside this, Ahana's elder sister, Esha Deol has two daughters – Radhya and Miraya Taktani.
We at Entertainment's Saga send the couple all the best wishes for the beautiful news.
For the latest Bollywood entertainment news and Indian cinema news, keep coming back to Entertainment's Saga. You follow us on Facebook, Twitter, and as well as LinkedIn.
Read the Latest Entertainment News Online: