Bollywood director Vivek Agnihotri recently shared a picture of a news clipping with Sonakshi Sinha's picture. In the picture shown in the news clipping, the Bollywood actress is walking out of a studio in Mumbai.
Vivek Agnihotri's Tweet on Sonakshi Sinha
Vivek Agnihotri took on Twitter to share a picture of Bollywood actress Sonakshi Sinha and asked, "Who shoots in such times?"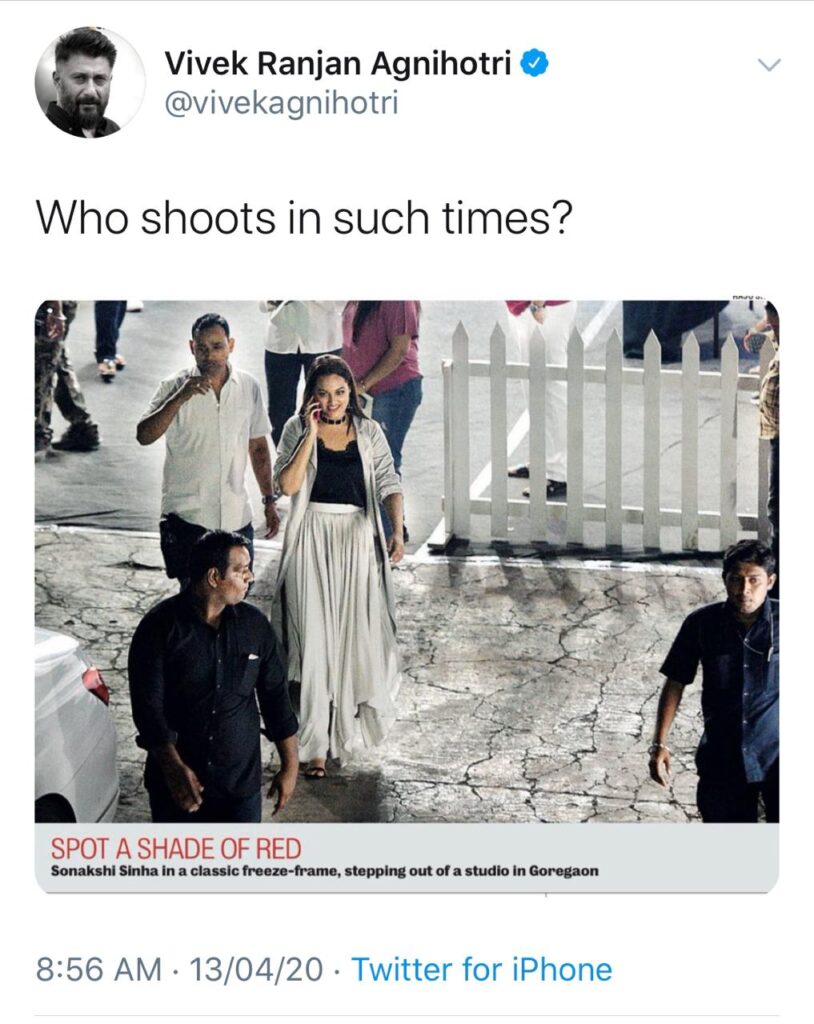 Sonakshi's Reply
To this, Sonakshi replied by reaching out to the Mumbai police and the government on Twitter. She mentioned her concern that people are spreading fake news on social media and wanted to know how to stop these things from happening. Here is what she said:
She also shared in another Tweet that this picture was taken around an year ago when she was shooting for Farah Khan's talk show. To this, Vivek replied by saying:
"The dig is at @MumbaiMirror not you. If I have to say something to you, I'd tag you. It's very insensitive to print such pictures in a trying time like this giving wrong impression. As a star you should also very strongly condemn this kind of yellow and insensitive journalism."
In the process, Sonakshi Sinha also backed Mumbai Mirror. The Bollywood actress mentioned that the format that the way the entertainment news channel showcased her picture is how they post throwbacks on their platform.
But, Sonakshi Sinha decided to bring the conversation to an end with this Tweet:
Do you think this was a genuine conversation on Twitter or was it just another Bollywood PR stunt? Let us know what you think in the comments section below.
To stay updated on more such Bollywood hot gossips, keep reading Entertainment Saga. Follow us on Facebook, Twitter, and LinkedIn for regular updates.
Read More From Entertainment's Saga: