The coronavirus pandemic lead to a nationwide lockdown in India on March 25. It was initially supposed to end on April 15, but has now been extended to May 3.
Arti Singh's Fitness Transformation
During this time, Bigg Boss 13 contestant Arti Singh shared a before and after picture, where she shows that she lost 5 kgs during the lockdown. The TV actress shared her success story with the help of a collage that she posted on Instagram.
For those who haven't seen her post, here is the collage the Bigg Boss contestant shared on her Instagram page: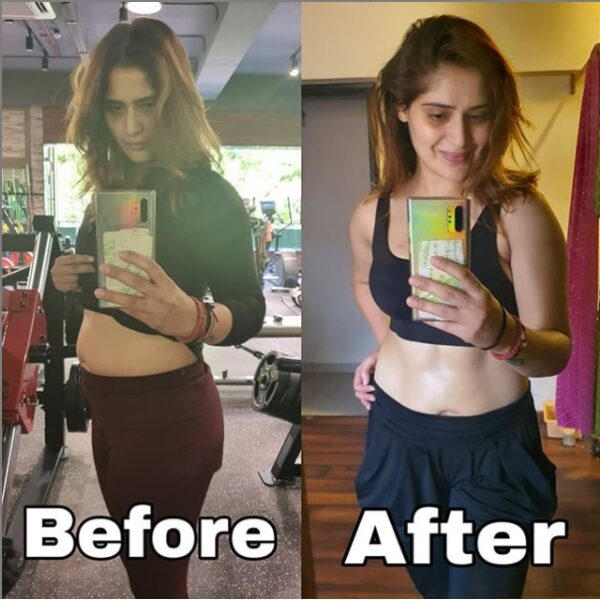 The 'Before' picture was taken on 15th March 2020 – 10 days before the lockdown was announced. The 'After' picture was taken on 13th April 2020. It is clearly visible that Arti Singh lost a lot of belly fat – 5 kilograms to be exact.
How Did Arti Singh Achieve This Fitness Goal?
In the caption of the social media post, the TV actress explained how she achieved this goal successfully. Her workout schedule includes 40 minutes of brisk walking and 50 minutes of yoga on alternate days. In terms of her diet, she kept a close watch on what she ate, but did eat a lot of food on her cheat food.
For those who want to read the complete caption on Arti Singh's Instagram post, here it is:
While Arti has done multiple TV shows in India, her popularity increased when she came on the latest season of Bigg Boss. She made it to the top 6 contestants on the show.
How many of you are impressed by the progress made by the TV star? Let us know in the comments section below.
Stay up to date with the latest TV star news online at Entertainment's Saga. Follow us on Facebook, Twitter, and LinkedIn for regular updates.
Read More From Entertainment's Saga: