Hina Khan is definitely an epitome of what an ideal physical fitness should be. The actress had always paid immense attention to her fitness regime. However after her father's death during Covid lockdown, the actress went through a great emotional turmoil. All that affected her physical health too.
However in a recent Instagram post the actress penned down an inspiring post for her followers informing about her getting back to her fitness routine.
Continue reading to know more about the latest news about Hina Khan and her recent Insta post.
Hina Khan Stresses the Importance of Mental Health Over Physical Appearance
Hina Khan who rose to fame after her role as Akshara in Yeh Rishta Kya Kehlata Hai went on to experiment various genres and won the hearts of her fans. However, the unfortunate death of her father in the last COVID lockdown made her suffered emotionally and physically, resulting in her gaining a little weight. Taking to Instagram the actress penned down, "Had put on some kilos in these months for obvious reasons and I really did not pay attention to how many kilos I put on. My mental health was way more important and I just wanted to be, wanted to do things that make me happy. Sometimes let yourself be, enjoy the little things, do what you like without thinking much about what people will say or how am I looking."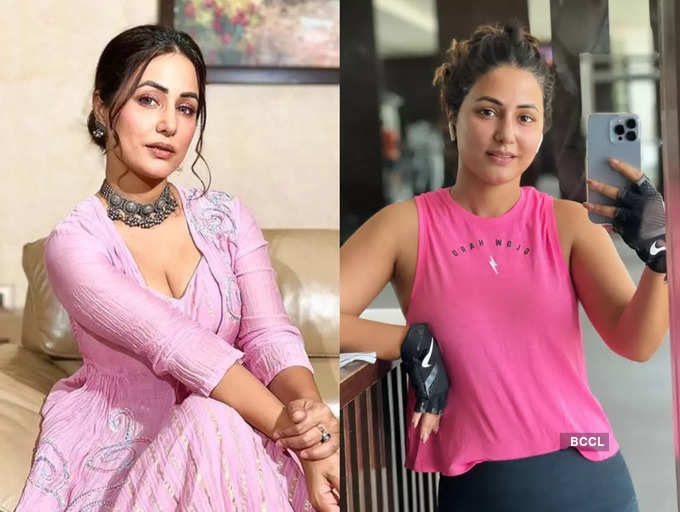 She further stressed the need for emotional wellbeing over physical appearance. She further wrote, "After all, one needs to be in the right frame of mind to do anything in life. And I chose mental health, my well being over my physical appearance. Now here I am, back in action."
On the work front the actress was recently seen in a music video alongside Angad Bedi. Her Baarish Ban Jana song along with Shaheer Sheikh received a lot of success and appreciation. Apart from these the actress had made her Bollywood debut in Vikram Bhatt's Hacked in the year 2020.
We extend heartfelt good wishes and strength to the actress for all her future endeavors.
Stay tuned for the latest entertainment news in India. For the latest TV star news online you may follow Entertainment Saga on Facebook, Twitter, Instagram, and LinkedIn.
Latest TV Stars News Online: