Rakhi Sawant has earned a lot of popularity in the showbiz industry and a huge following. The actress' personal and professional lives, as well as her controversial statements, have always been the talk of the town. Once again, Rakhi Sawant is making headlines about her personal life due to her recent marriage. Rakhi finally married her longtime beau Adil Khan Durrani after a long engagement. Adil Khan Durrani and Rakhi Sawant have been dating for a long time and have often been spotted together. 
Rakhi Sawant and Adil Khan Durrani Married
Rakhi Sawant and Ritesh Pandey's separation made headlines, and she was seen being upset afterward. Her fans have been seeing smiles since Rakhi Sawant and Adil Durrani made the news. Rakhi Sawant maintains an active presence with a huge number of followers on all her social media handles. She keeps her fans up to date on every aspect of her life. Even though Rakhi has not shared pictures or videos of her wedding on Instagram, there has been a picture of Rakhi and Adil going viral on social media. This suggests that both are now married.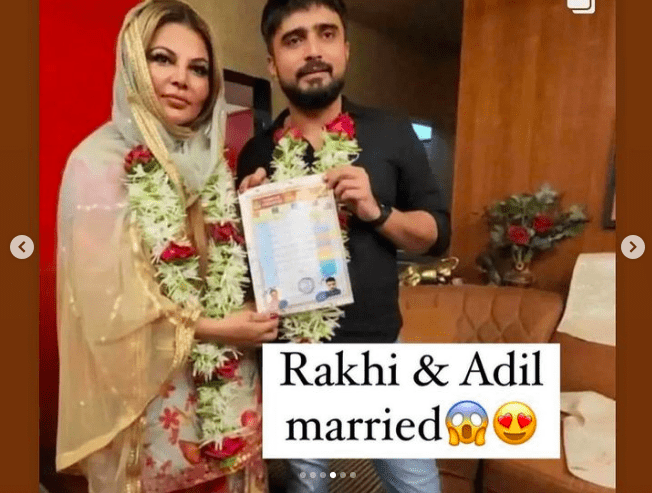 It was in Mumbai's Khar district that Rakhi and Adil signed their official marriage certificate and posed for photographs. The picture shows Rakhi and Adil holding their marriage certificate and wearing garlands as they pose for the camera. The picture shows Rakhi in a red suit, while Adil wears a black shirt and distressed jeans.
Rakhi and Ritesh started dating after she separated from Ritesh, another man she claimed to have married. According to reports, she divorced him and later announced to the media and her fans that she was dating Adil, a businessman from Mysore.
A series of photos from Rakhi Sawant's court marriage was shared on her Instagram page. Rakhi wrote, "I'm so excited and happy to get married. My love is 4 Ever unconditional love for you Adil." Soon fans and friends flooded the comment section with congratulatory messages for the newlyweds.
Despite this, The certificate appears to be dated 2 July 2022. it seems that the marriage registration was done last year.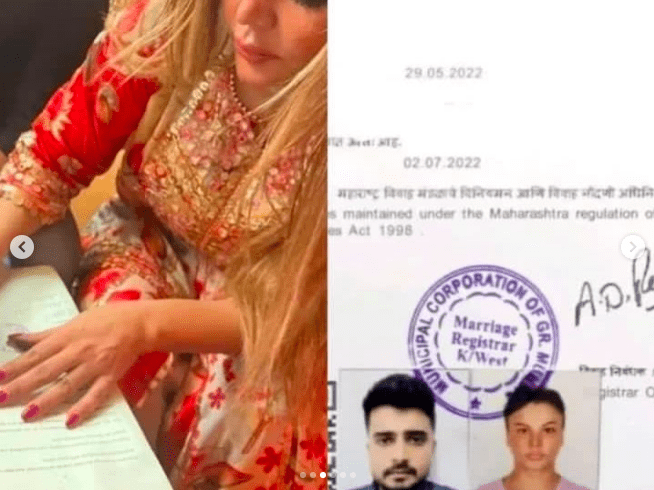 Rakhi made her first public appearance with Adil after her stint on Bigg Boss Marathi 4.
Find out the latest Bollywood breaking news online with Entertainment's Saga – home of Indian entertainment news. You can follow us on Facebook, LinkedIn, Instagram, and Twitter for the latest entertainment news online and funny memes.
Read the Latest Bollywood Hot Gossips Online: