Rakhi Sawant and Ritesh Pandey's marriage has never stayed out of the limelight. To start off with, fans were definitely shocked when Rakhi Sawant's wedding pictures hit social media platforms. Initially, she had denied any news around her marriage. But, when Rakhi Sawant posted pictures from her honeymoon, it became clearer that she in fact did get married. Later, when the actress shared the news with the world, Rakhi mentioned that she was initially scared to share the news.
But, Rakhi Sawant did keep her husband's face away from the paparazzi and fans for quite some time. This led to a lot of questions around whether there was actually a marriage or whether Rakhi was doing this as a publicity stunt. But, all questions were squashed when the couple came on Bigg Boss' season 15 as a wild card entry.
Rakhi Sawant and Ritesh Pandey's Divorce
The couple got divorced in February, 2022 soon after Bigg Boss 15 ended. Soon after, Rakhi Sawant shared a video on her social media profiles where she was seen getting a tattoo with Ritesh's name removed from her body. In the video, she was seen saying. "3 saal shaadi ke.. Ritesh tum permanently meri zindagi se aur meri body se nikal gaye ho. (3 years of marriage.. Ritesh you are now permanently removed from my life and my body.)"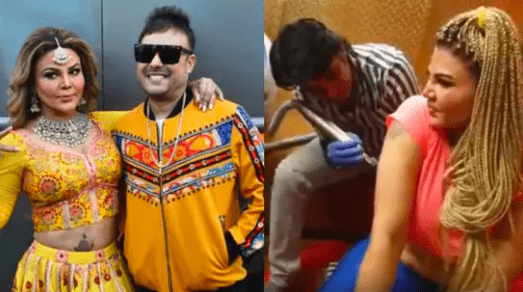 Do you think this marriage was genuine or a PR stunt by the Bollywood actress and dancer? Let us know your thoughts in the comments section below.
Stay tuned for the latest entertainment news in India at Entertainment's Saga. You can also follow us on social media: Facebook, LinkedIn, Instagram, and Twitter.
Read the Latest Bollywood Hot Gossips Online: