Bad times certainly bring the true side of people. This is true for that philanthropist person we are going to pay tribute to through this article. Bollywood actor Sonu Sood has been in the media for all good reasons especially in the lockdown period due to his contribution to society. Continue reading to know the entire story!
Sonu Sood proves himself completely opposite to his "Reel" life image
The Bollywood actor and producer Sonu Sood established himself as a true philanthropist in the times when it was needed the most. The Hindi, Telugu, Tamil, Kannada, and Punjabi film star gave back to the society in the noblest manner. Here we have made a list of his good deeds that he did and made a place in our hearts in 2020:
Arranged Buses for Migrants to Leave for Their Homes
The rising COVID cases and the resultant lockdown made it worst for the migrant laborers to earn a living in cities and going back to their home was not an easy option for them. The actor went a long way in arranging buses, food to plane tickets for the migrant labor at his expenses. Later he also launched a toll-free number to enable migrants to call for help if they required.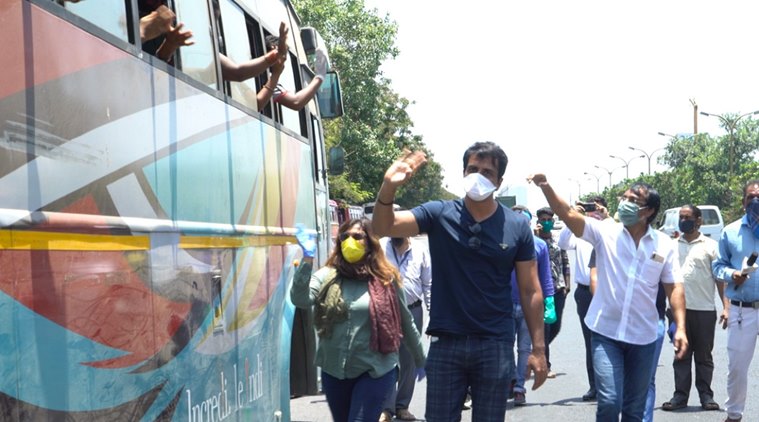 Offered his Juhu hotel for the "Real heroes"
Earlier in the month of April, Sonu Sood offered his Juhu hotel for the healthcare workers to stay. Talking about the same he stated in his Instagram post: "In the tough times that we have been living and to support the national heroes who have been working tirelessly day and night, I open my hotel in Juhu for all the healthcare workers. Considering the mammoth duty these heroes are doing right now, this is the least we can do for them. We are all in this together, let's all come forward and support them"
Started Pravasirojgar Yojna
The actor came up with the idea of the "Pravasirojgar Yojna" app that promised to generate three lakh job opportunities to contribute to the job loss many people faced at the beginning of the Corona pandemic.
Gifted a Tractor to a Poor Farmer From Andhra Pradesh
After seeing a farmer's video taking the help of his daughters to plow the field on social media, Sonu Sood extended a helping hand. He gifted that Andhra Pradesh based farmer a tractor. The farmer Nageswara Rao expressed to a news agency ANI that, "He is no less than a god to us".
Sonu Sood Pitches in to Help the Warrior "Aaji maa"
An 85-year-old Pune woman's video surfaced on social media showcasing her martial arts skill. The video caught the attention of the actor who then pitched in to help and wrote on Twitter: "Can I get her details, please. Wanna open a small training school with her where she can train women of our country with some self-defense techniques."
The world would be such a beautiful place to be if everyone starts thinking to devote a little time, efforts, or money to some humanitarian cause as this actor did!
Read more about Bollywood celebrity news online at Entertainment's Saga – home of the latest entertainment news in India. Follow us on Facebook, Twitter, and LinkedIn for regular updates.
Read More Bollywood Entertainment News Online: