The investigation of Bollywood actor Sushant Singh Rajput's death led to a lot of revelations about the industry such as nepotism in Bollywood and drug use. It started with the arrest of Rhea Chakraborty because of substance abuse information that came out during the investigation of SSR's death. Since then, actors such as Shradha Kapoor and Deepika Padukone have also been summoned by the NCB for questioning.
Karan Johar's Bollywood Party
Last year, a video from Karan Johar's party went viral where it was clear that the guests at the party were high on drugs. Some of the guests at the party included Malika Arora, Arjun Kapoor, Vicky Kaushal, among others. The video was uploaded by Karan Johar on his official Instagram handle.
Read Also: Vicky Kaushal's Reaction on Accusation of Taking Drugs at Karan Johar's Party
Karan Johar's Statement
But, instead of taking a stand then and clarifying things, Karan Johar decided to come forward now. Here is the statement that the Bollywood director put in front of the public –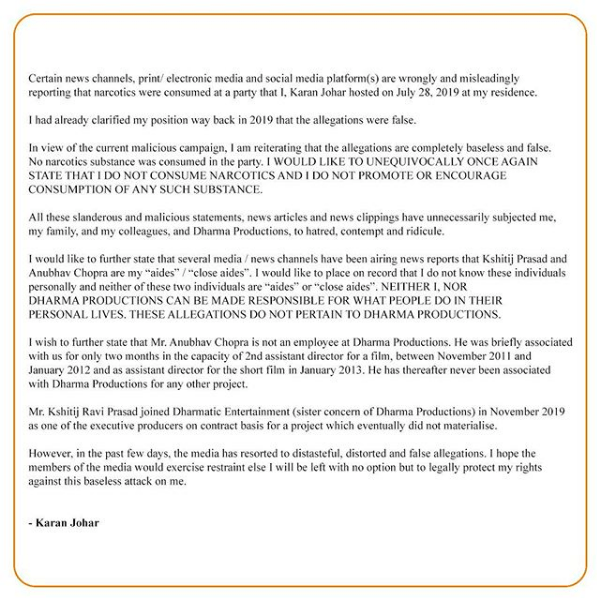 In the post, one of the things he focused on was saying that "I WOULD LIKE TO UNEQUIVOCALLY ONCE AGAIN STATE THAT I DO NOT CONSUME NARCOTICS AND I DO NOT PROMOTE OR ENCOURAGE CONSUMPTION OF ANY SUCH SUBSTANCE." He also went on to say that "NEITHER I, NOR DHARMA PRODUCTIONS CAN BE MADE RESPONSIBLE FOR WHAT PEOPLE DO IN THEIR PERSONAL LIVES. THESE ALLEGATIONS DO NOT PERTAIN TO DHARMA PRODUCTIONS."
As you can see, these portions were clearly put in capitals for the world to see.
What are your thoughts about it? Let us know what you think in the comments section below.
Read more about Bollywood breaking news and hot gossips online. At Entertainment's Saga, we're the home of the latest entertainment news in India. Follow us on Facebook, Twitter, and LinkedIn for regular updates.
Read More Bollywood Entertainment News Online: