Want to make your wedding interesting and give it a personalized touch? If so, the shoe game is a wedding game that HAS to be on the wedding iteniary.
The Game Rules
The bride and groom are seated on chairs with their backs to each other.
Both the bride and groom remove their shoes and exchange one so that they are both holding one of the bride's shoes and one of the groom's shoes.
During the game, a series of questions are asked. In every case, the answer is either "the bride" or "the groom." The bride and groom answer by holding up the shoe of the correct answer. For instance, if the question was "Who is the more romantic one" and the answer is the bride, they should both hold up the bride's shoes.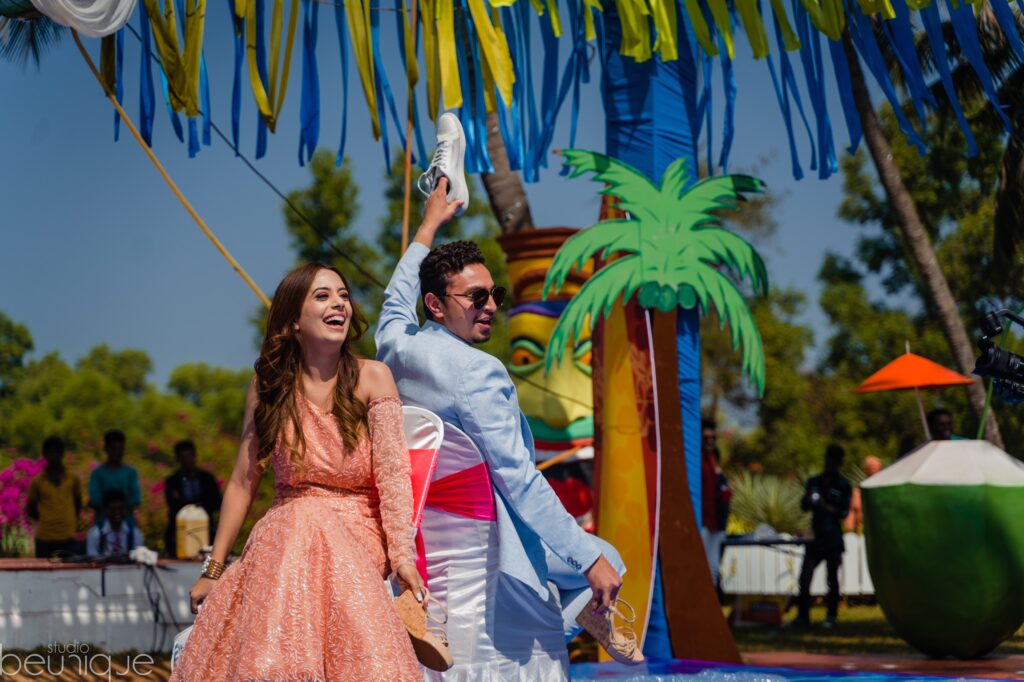 What makes this game interesting is that the bride and groom cannot see each other's expressions or responses. Not only this, while the questions might be something that people ask every couple, the experience of the game is unique to the couple involved.
Tips for the Questions
It is usually recommended that the questions are ready before the game starts. This makes the experience less chaotic, and allows the person who is asking the questions to have a flow throughout the game.
Question Ideas
For those stuck on question ideas, here are a few to get the ball rolling:
Who is more romantic?
Who is the cleaner one?
Who apologizes first after a fight?
Who's the one who starts the fights?
Who's the bigger kid?
Who is the better driver?
Who farts more?
Who shops more?
Who chooses the restaurants for lunch/dinner dates?
Who is more clumsy?
Who talks the most?
Who looks in the mirror more?
Who talks the loudest?
Who has the better laugh?
Who tells the best jokes?
Who's car is cleaner?
Interesting Videos of the Wedding Shoe Game
For those who want to see the wedding game in action, here are a few videos we found online:
Are there any questions that we missed or are there any other interesting videos that you would like us to add to this article? Let us know in the comments section below!
Stay on top of the latest wedding trends online at Entertainment's Saga – home of the latest entertainment news in India. You can follow us on Facebook, Twitter, and LinkedIn for regular updates on the latest entertainment news in India.
Read More of the Latest Wedding Trends: