The coronavirus has led to a very unprecedented time, and a lot of people are finding it hard to make ends meet. For example, Bollywood actor Solanki Diwakar is currently selling fruits on the streets of South Delhi.
Why is Solanki Diwakar Selling Fruits?
The actor admitted that he has been jobless for the last two months. In order to earn money to pay his expenses, Bollywood actor Solanki Diwakar has been selling fruits in Delhi. A report by India Times mentioned that "He [Solanki Diwakar] says no work is big or small, and so, he has fallen back on his job as a fruit vendor to earn money and manage a living."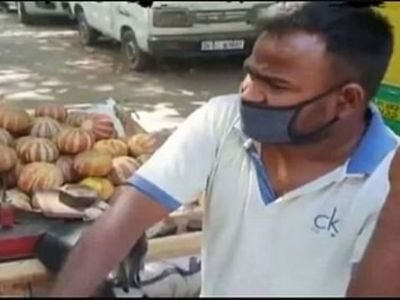 In an interview with ANI, the actor said, "With the lockdown being extended I have to take care of my needs. I have to pay my rent and also need money to meet the expenses of my family. So I have turned back to selling fruits."
The 35-year-old actor has been seen in movies such as Dream Girl, Hawa, Sonchiriya, Kadwi Hawa, Halka, and Titli, among others.
COVID – 19, along with the lockdown that followed, has made things difficult for many. Every individual is tackling this pandemic in their own ways. What are some problems that you are facing due to the lockdown? Let us know in the comments section below.
Stay up to date with the latest Bollywood celebrity news online at Entertainment's Saga. Follow us on Facebook, Twitter, and LinkedIn for regular updates.
Read More From Entertainment's Saga: