Have you exhausted your Netflix watchlist? We know we have! But then we came across the Netflix Original Show – Comedy Premium League.
The show is about 16 comedians split into four teams and they compete with each other to make the audience laugh. Here are the top reasons we love the show.
1. So many comedians!!
The show consists of four teams of four comedians each. So that's a total of 16 comedians brought together on one show.
2. The host
The show is hosted by popular YouTuber and comedian – Prajakta Koli. She's famously known for her channel – MostlySane. As the host, she does an awesome job keeping the audience engaged.
3. It's likely your favorite comedian is on the show
Have a favorite Indian comedian? It's likely that they are on this show.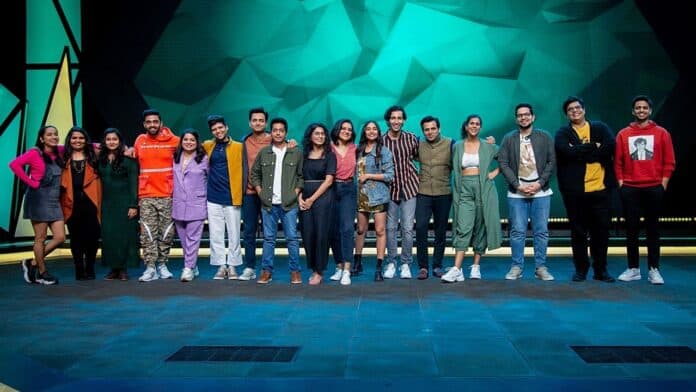 For those who are wondering, the teams and their respective members are as follows:
Team IDGAF Iguanas
Contestants:
Rohan Joshi
Tanmay Bhat
Sumukhi Suresh
Sumaira Shaikh
Team Lovable Langoors
Contestants:
Amit Tandon
Samay Raina
Rytasha Rathore
Aadar Malik
Team Naazuk Nevle
Contestants:
Mallika Dua
Rahul Subramanian
Urooj Ashfaq
Rahul Dua
Team Gharelu Gilaharis
Contestants:
Kenny Sebastian
Prashasti Singh
Kaneez Surka
Aakash Gupta
4. The Jokes Are Hilarious
Want to be the literal version of the acronym ROFL? Don't worry because this show will take care of that. With 16 comedians on the show, they won't leave any stone unturned to make the audience laugh all night long!
5. It's Not Unnecessarily Stretched Out
Unlike other shows, the Netflix show Comedy Premium League has 6 episodes including the finale. Hence, it's not unnecessarily dragged out and is fun to watch.
For the latest entertainment news in India, stay tuned to Entertainment's Saga. You can also follow us on Facebook, Twitter, and LinkedIn for regular updates.
Stay On Top Of The Latest Entertainment News Online: