Last Updated: September 25, 2022
On 1st August, 2019, Bollywood actress Dia Mirza announced on social media that she and her husband are separating. The couple got married on 18th October 2014 and have been married for almost 5 years. Before Dia Mirza and Sahil Sangha tied the knot, they had been dating for approximately six years.
While the couple is parting ways on mutual consent, they have declined to answer any more questions.
Dia Mirza's Tweet with the Bollywood Breaking News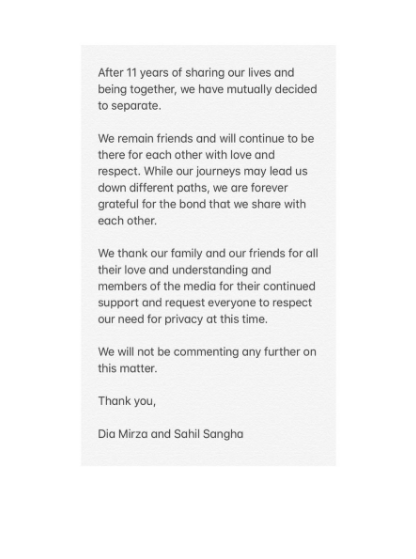 The same note was shared by Sahil Sangha on his Instagram handle.
In the note, the couple mentions that despite separating and following their individual paths in life, they will continue to remain friends. Also, Dia Mirza and Sahil Sangha have mentioned in the note that this decision is mutual, and they are happy with the same.
About Dia Mirza
Dia Mirza was born on 9 December 1981 and is an Indian model, actor, and producer. In fact, she was also crowned as the winner of Miss Asia Pacific in 2000. While her work is primarily in the Bollywood industry, she is also known for the social work that she does.
About Sahil Sangha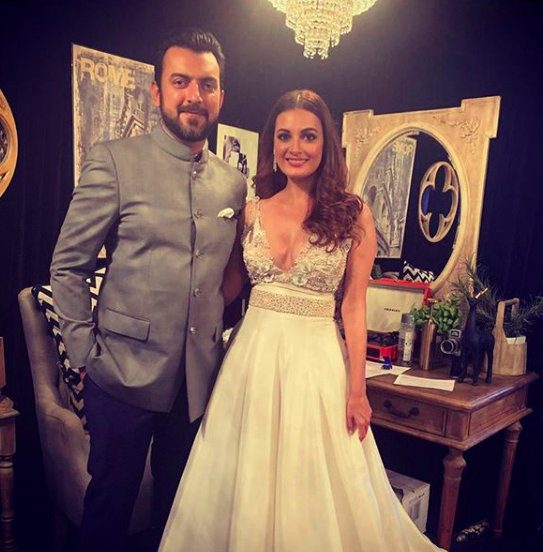 Born in 1980, Sahil Sangha is a film producer in Bollywood. He co-owns a production house with Dia Mirza by the name Born Free Entertainment. Now that the couple is separating we are wondering if the two will continue to operate this production house as a team.
Dia Mirza has now gone ahead and gotten married again to Vaibhav Rekhi. As per reports, Vaibhav Rekhi is a businessman and financial investor based out of Mumbai.
Read Also: Details of Dia Mirza's Wedding with Vaibhav Rekhi
At times, relationships are just not meant to last forever. We wish the two individuals the best of luck for their futures.
Get the latest entertainment news in India with Entertainment's Saga. Follow us on Facebook, Twitter, Instagram, and LinkedIn for regular updates from Entertainment's Saga and some of the funniest memes you'll find on social media!
Read the Latest Bollywood Breaking News Online: