Bollywood celebrity Neha Dhupia and her husband Angad Bedi celebrated their second wedding anniversary on 10th May. This was an extra special day for Neha as it was also Mother's Day.
Neha Dhupia's Social Media Post
The Bollywood celebrity posted a picture of herself and her husband on Twitter as a way to acknowledge their anniversary. Along with the picture of Neha Dhupia and her husband, she posted a caption:
"Happy anniversary my love … to two years of togetherness … "Angad is like 1. The love of my life 2. a suport system 3. a great father,4. My best friend and 5. The most annoying roommate ever. It's like I have 5 bfs in one…it's my choice." #thosewhoknowknow @Imangadbedi."
Neha Dhupia posted the same pictures with the same caption on Instagram as well.
Social Media's Epic Responses
While people from the film industry and colleagues congratulated the couple on their second anniversary, there were even more people who ended up trolling Neha instead.
For those who don't know, a video of Neha Dhupia went viral on social media for a comment she made to a man auditioning for Roadies. In the audition, the man mentioned that he slapped his girlfriend because she was cheating on him with 5 other men. To this, Neha had gotten mad and shouted at the contestant. She told him that "it was her choice" and that he had no right to slap her. For those who want to read the complete story and watch the video of Neha Dhupia's outburst – Actress Neha Dhupia gets Trolled and Called a Fake Feminist
Social Media Reactions
Here are a few of the replies we found on Twitter to Neha Dhupia's anniversary Tweet –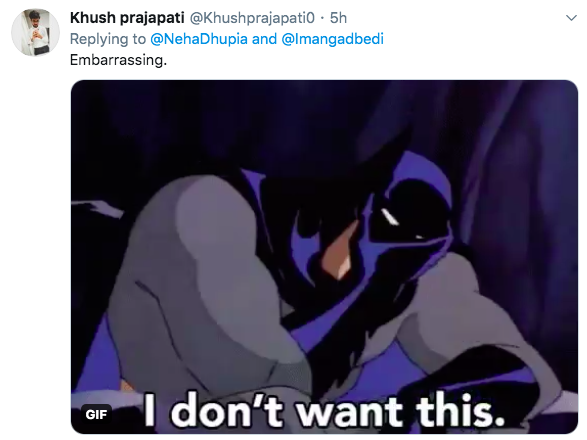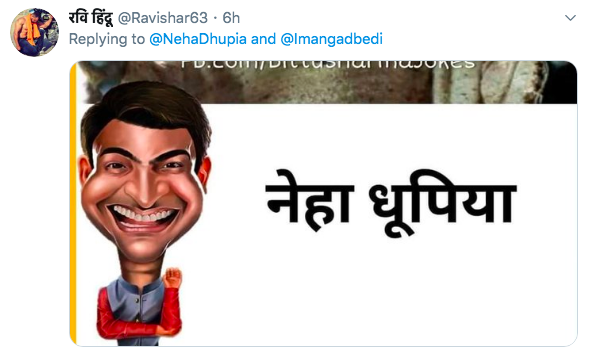 Which of these Tweets did you like the best? Let us know in the comments section below. In case there's an interesting reply we missed, share the link in the comments section below and we'll add it into the mix!
Stay tuned for more Bollywood celebrity gossips at Entertainment's Saga. Follow us on Facebook, Twitter, and LinkedIn for regular updates.
Read More From Entertainment's Saga: