As the rules around lockdown ease, people have started going out. Not only this, but there are also long lines in front of liquor stores. Looking at this, Ram Gopal Verma takes on social media to share his views on women in line to buy alcohol.
Ram Gopal Verma's Comment on Women Buying Liquor
On Monday, Ram Gopal Verma shared his views on Twitter on women standing in line to buy liquor. He said, "Look who's in line at the wine shops ..So much for protecting women against drunk men."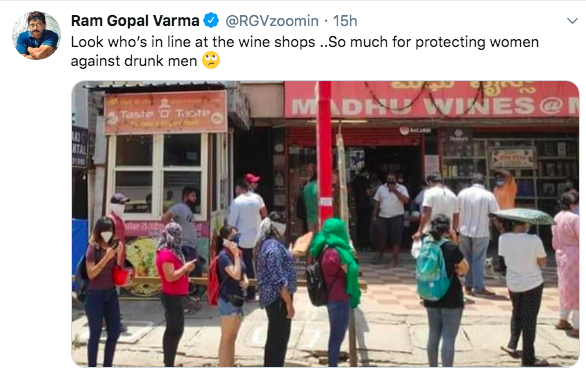 Sona Mohapatra's Reaction
It was clear by Bollywood singer Sona Mohapatra's reply to the above Tweet that she does not agree with Ram Gopal Verma. In a post on Twitter, Sona said, "Dear Mr RGV,time for u to get into the line of people who desperately need a real education.1 that lets u understand why this tweet of yours reeks of sexism & misplaced morality. Women have a right to buy & consume alcohol just like men. No one has a right to be drunk & violent."
Social Media Agrees with Sona
Other people on Twitter also agreed with Sona's views on Ram Gopal Verma's comment. Here are a few Tweets we found:


Do you agree with Sona Mohapatra's slam or Ram Gopal Verma's comment on this topic? Or do you think that all of this is just a publicity stunt? Let us know what you think in the comments section below.
Stay up to date with the latest Bollywood breaking news online at Entertainment's Saga. Follow us on Facebook, Twitter, and LinkedIn for regular updates.
Read More From Entertainment's Saga: