MTV's show Roadies always comes with a bang and always sweep over the Bollywood hot gossip. Rannvijay Singha and other gang leaders have started a new journey with MTV Roadies Real Heroes. With all the auditions going on Actress Neha Dhupia made to the headlines for her comment on physical abuse. Netizens didn't take that lightly and Neha Dhupia badly trolled by them. In fact, Neha Dhupia has been labeled as a hypocrite and fake feminist by people across social media platforms.
Neha Slammed a Boy who Had Hit His Girlfriend
During an audition, a contestant revealed that in his past he slapped his girlfriend because he found out that she was dating 5 other guys. This didn't go well with Gang Leader Neha Dhupia. She raised her voice and said it is her choice to have as many boyfriends she wants, and that nobody gave that man the right to slap her.
If you haven't seen Neha Dhupia's viral video, here it is:
#Hypocrite #FakeFeminism – Memers to Neha Dhupia
Here starts the trolling. Some called her biased, some called it fake feminism and others called her a hypocrite. Netizens trolled her saying to stop advocating for feminism and gender equality when you don't know the meaning of it. Some tweets that were associated with social media insults and memes against Neha Dhupia included #hypocrite, #antisocialist #ShameOnRoadies, and #ShameOnYou. If this is not enough netizens start making memes including the actress family members and trolled Angad Bedi and their daughter too. Neha's posts on Instagram get filled with abusive comments, leading to the actress switching off the comment section for her posts.
One of the memers also shared the personal chat messages from Neha Dhupia. In that, the actress is saying to stop all these memes and trolling.
Read Also: Kanika Dhillon and Prakash Kovelamudi Parting Ways
Neha Dhupia's Reply
After the weeks of trolling Neha Dhupia took her Instagram Handle and shared a heartfelt post. She decided to break her silence after the trolls are directing towards her family members including her little daughter.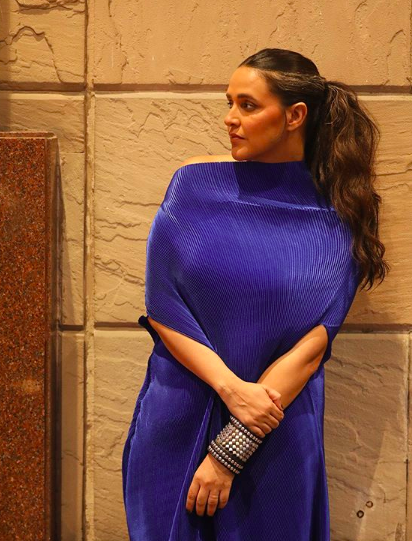 Her post started with the incident and her reaction to that. She said in the post that she is not in favor of Cheating. Whatever two persons are doing in their relationship it is their choice. What actually bothered her the Physical abuse. She added that people misinterpreted her statement. Her stand was against the physical abuse be it a man or woman.
Many celebrities like Karan Johar, Tahira Kashyap, and Rannvijay Singha take stand for Neha Dhupia and shared her post on Social Media.
Stay tuned for more Bollywood celebrity gossips at Entertainment's Saga. Follow us on Facebook, Twitter, and LinkedIn for regular updates.
Read More From Entertainment's Saga: