Last week India yet again experienced a heinous gang-rape of a veterinary doctor based in Hyderabad. Many famous personalities took advantage of social media to vent out the anger against the crime. Kabir Singh Director Sandeep Reddy Vanga is one of them. He Tweeted "FEAR" to be the only rule that will help margin such gruesome acts.
Fear should be the New Rule – Kabir Singh Director Tweeted on Hyderabad Rape- Murder Case
In the events of tweets to verbalize the anger, Kabir Singh movie director tweeted that the Fear is the only to Margin such atrocious crime. He also requested the Warangal Police for the Brutal sentence for the accuse that will cause Fear among the future Evil-Doers.
Sandeep Vanga's Tweet
For those who haven't read the actual Tweet by Sandeep on Twitter, here it is: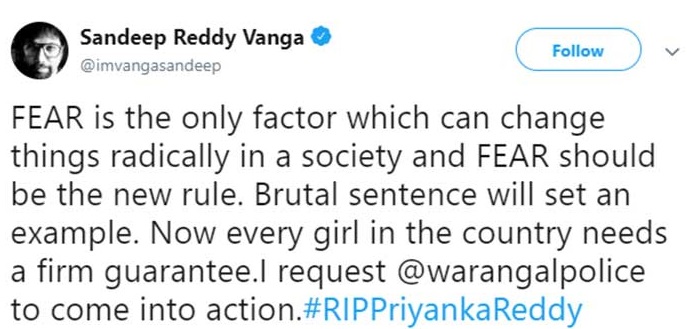 Dramatic Turn of Events – Sandeep Reddy Vanga Trolled for his Tweet
After minutes of tweeting Sandeep Reddy Vanga gets censured for his tweet and his controversial movies "Arjun Reddy" aka "Kabir Singh". Netizens backlash on the director of encouraging Masculine Toxicity and violence against women in his movies. Many of the tweets against him called the Kabir Singh Director a Hypocrite of making such feudal movies and asking for the law and order at the same time.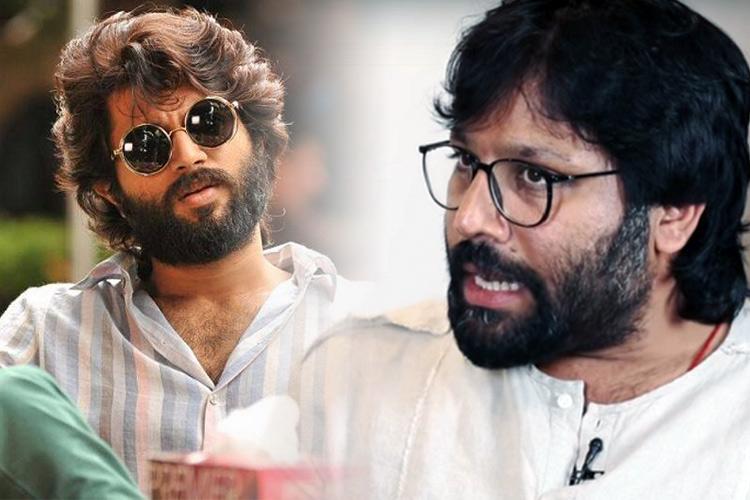 Questions being Raised by the Netizens over Tweet on Hyderabad Rape- Murder Case
In the backlash, many Netizens Questioned the Kabir Singh Movie Director of being a Hypocrite and accused him of promoting masculine toxicity.
One of the netizens Replied the tweet by Movie director – the accuse in the Hyderabad Rape- Murder case could be Kabir Singh who has brutally raped the Veterinary Doctor Priyanka Reddy.
While the other one questioned the Mindset of Sandeep Reddy Vanga while making the movies like Arjun Reddy AKA Kabir Singh. The tweet also accused the Kabir Singh movie director of glorifying the masculine behavior and it is ok to slap a girl.
Many had previously questioned his definition of "intense love" and suggested he has to work on not patronizing the characters in his films and not glorifying the misogynist theory.
Vikramaditya Motwane – joins the league of Criticizing Kabir Singh Director
Joining the league of criticism against Kabir Singh movie director Vikramaditya Motwane also lay the blame on Sandeep Reddy Vanga. Vikramaditya Motwane in his tweet asks the movie director will the Fear be enough to stop him from slapping her?
Sandeep Reddy Vanga has not replied yet to any of the tweets.
Hyderabad Rape- Murder case is a shame for our society. Many actors and influencers have shown their deep concerns and ask for justice for the victim. But the need of the hour is not for candle marches or shouting slogans, it is time for stringent actions.
Read more about the current events and latest news online at Entertainment's Saga. Follow us on Facebook, Twitter, and LinkedIn for regular updates.
Read More from Entertainment's Saga: