A recently released Anand Tiwari's directorial Maja Ma got mixed reviews from viewers and film critics. This drama film contains some exceptional cast such as Madhuri Dixit, Gajraj Rao, Simone Singh, Barkha Singh, Rajit Kapur, Sheeba Chaddha, Shrishti Shrivastava, and Ritwik Bhowmik. This particular Bollywood movie talks about a topic not discussed often. It can be rightly related to Ayushmann Khurana's movies battling societal norms like Vicky Donor, Bala, etc.
Keep reading to know more about the movie and the way it managed to highlight the issues faced by the LGBTQ community within India. All this would be enough for you to make a decision on whether you should go for this one or give it a miss.
A movie that deserves a miss or a virtual kiss?? Find out here!
Maja Ma very courageously brings home the message of widely ignoring the rights of the LGBTQ community stripping them of their natural happiness and desires that any other normal human has. It shows the unease an Indian society feels in providing recognition to the LGBTQ community.
At the center of the movie's plot, we have a very normal-looking Gujarati middle-class family who sent their only son to study abroad. It opens with son Tejas pepping to meet the parents of her love Esha for marriage.
From the beginning, the woman of the house, Pallavi is well respected in society for being the perfect symbol of womanhood but as soon as her identity as a lesbian comes out in the Navratri function, she is stripped of all the respect. It's as if she committed a heinous crime, a person's sexual orientation suddenly becomes everyone's business. Both the lady lovers, Pallavi and Kanchan had to stay in a closet to appear "normal" and to be "acceptable" in society. Kanchan's suffering from cancer can be symbolically linked to her feeling rotten in her marriage being naturally opposed to her natural self.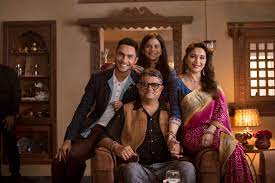 Later as the movie progresses, Pallavi is shown being caught up with society's expectations of what a typical housewife should be like and accepting her own true self that she succeeded in hiding all these years.
Fortunately, LGBTQ concerns are being raised to a certain extent but these are more used for attention-grabbing than for standing for the real cause.
It is a sad part that both the lady lovers had to remain in a marriage that lacked sexual chemistry, attraction, and love just to appear normal in the society that haunted them till the end.
Later as the family comes to know about Pallavi's sexuality and refuses to accommodate her as before she decides to leave the place once her son's engagement takes place.
As good sense prevails, Pallavi is showered with all her due love and they emerge as her support system as the movie comes to an end.
The movie beautifully deals with a sensitive topic with finesse nonetheless there are still quite a few loopholes without which it could have fared even more. All we hope is that the LGBTQ community of India too happily accepts this section of society and they too have their own "Happily thereafter" as the movie had!!
According to our critic police, if you would love to watch something meaningful, entertaining, and light, this one shouldn't be missed.
Stay tuned to Entertainment's Saga for more honest Bollywood movie reviews online. You can follow us on Facebook, Instagram, and Twitter.
Stay on Top of the Latest Bollywood Breaking News Online: