Last Updated: November 21, 2022
Released in 2001, Chori Chori Chupke Chupke was a movie that was loved by people across India. We watched the Bollywood movie again, only to realize that it was utterly unrealistic. Here's why.
Chori Chori Chupke Chupke's Story
Salman Khan and Rani Mukerji have an arranged marriage. Salman's family is nothing less than open and accepting and Rani's character exactly fits the definition of a perfect daughter in law. The family has an instant connection with their daughter in law because of this.
Amrish Puri – who plays Salman's dadaji in the movie – has a wish to see the face of his great-grandchild before dying. This persistance is a key reason Salman Khan had initially said yes to get married. To everyone's convenience, Rani Mukerji becomes pregnant early on in the movie, only to have a miscarriage. Upon inspection, the doctor gives the couple the news that Rani's character could never conceive again due to an infection caused by the miscarriage, leading to the surgeons removing her reproductive organs to save her life.
While Salman and Rani are devastated by the news, they decide not to tell their family about the same to save them from the pain. But, Amrish Puri is still in hope to see the next generation of his family.
While everything up until here is fine, here is when things start to get a little quirky in Chori Chori Chupke Chupke
Despite having an understanding sasural, Rani's character is fixated on giving dadaji the next kin. Moreover, she is even more focused on making sure that the baby belongs to the same bloodline, which is an underlying part of Salman Khan's grandfather's wish in the movie.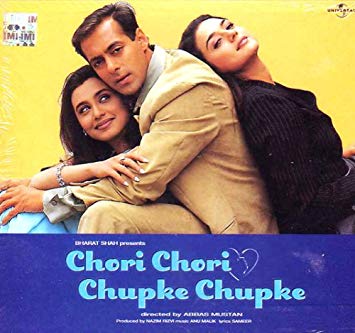 As Rani Mukerji can't have a baby of her own, the couple decides to opt for surrogacy.
In the process, Salman Khan and Rani Mukerji's character plan to use the help of a surrogate to have Salman Khan's baby. In order to do so, they approach a prostitute played by Preity Zinta. Also, instead of artificial insemination, Salman Khan spends the night with Preity. The three move to Europe and inform the family that the couple is having a baby, when in fact, they will be adopting Preity Zinta's and Salman's baby.
Read Also: This Nach Baliye Flash Mob Is All We Can Talk About
Here's Why We Find the Movie Unrealistic
Rani's in-laws were some of the most open-minded families of India. Yet, she still fixated on giving them a baby which was biologically Salman's.
With the year this movie was launched in, there was so much taboo around adoption. This movie could have been a great opportunity for the creators to make a movie with a social message. But instead, they worked towards re-enforcing the idea that families should really try for a biological child.
While there is an option of artificial insemination, Rani was okay with having her husband sleep with another woman after marriage. Salman happily followed along.
Salman and Rani belong to a respected household. There were multiple ways they could have found a surrogate, and yet the first idea that came to Salman's mind was to go to a bar in search of the same.
Halfway into the second half of the movie, Preity's character started having feelings for Salman Khan. Within seconds of finding out, Rani Mukerji was willing to step out and let Preity take her place in the family.
Read Also: Fun Facts About Bollywood Actress Kajol
We are not saying that daughters-in-law in India don't make countless efforts for their families. But, it cannot possibly so easy for them to make the decisions Rani's character made in less than 30 seconds. Keeping in mind the basic human nature, one can't possibly be completely selfless as Rani's character was in the movie. Maybe that's why such stories only look good in a movie, but in real life, there are only so many people who could happily follow the path that Rani took in the movie.
What are your views on the movie Chori Chori Chupke Chupke?
Share your views of Chori Chori Chupke Chupke in the comments section below and let us know if you agree with what we said.
Follow Entertainment's Saga on Facebook, Twitter, Instagram, and LinkedIn for the latest entertainment news in India.
Read the Latest Bollywood Hot Gossips Online: