Today for our readers we at Entertainment Saga thought of sharing an absolute classic dessert recipe of a red velvet cake. Red velvet cake is basically an American classic dessert savored in parties or family get-togethers. However, due to its indulgent taste, it has become famous in various other countries as well. This cake recipe will be best to surprise your loved ones and leave them appreciating your culinary skills. Let's begin with this mouth-watering dessert recipe.
Before proceeding with the recipe steps, let us first look at the ingredients required for this delicacy.
Ingredients for Red Velvet Cake
1 ¼ all-purpose flour
½ teaspoon baking soda
½ teaspoon salt
1 cup sugar
1 cup refined oil
½ teaspoon edible food color
1 teaspoon cocoa powder
1 egg
½ cup buttermilk
1 teaspoon vanilla extract
Ingredients Required for Cake Icing
½ cup cream cheese
1 tablespoon finely chopped almonds
¼ cup butter
1 cup icing sugar
1 tablespoon finely chopped cashews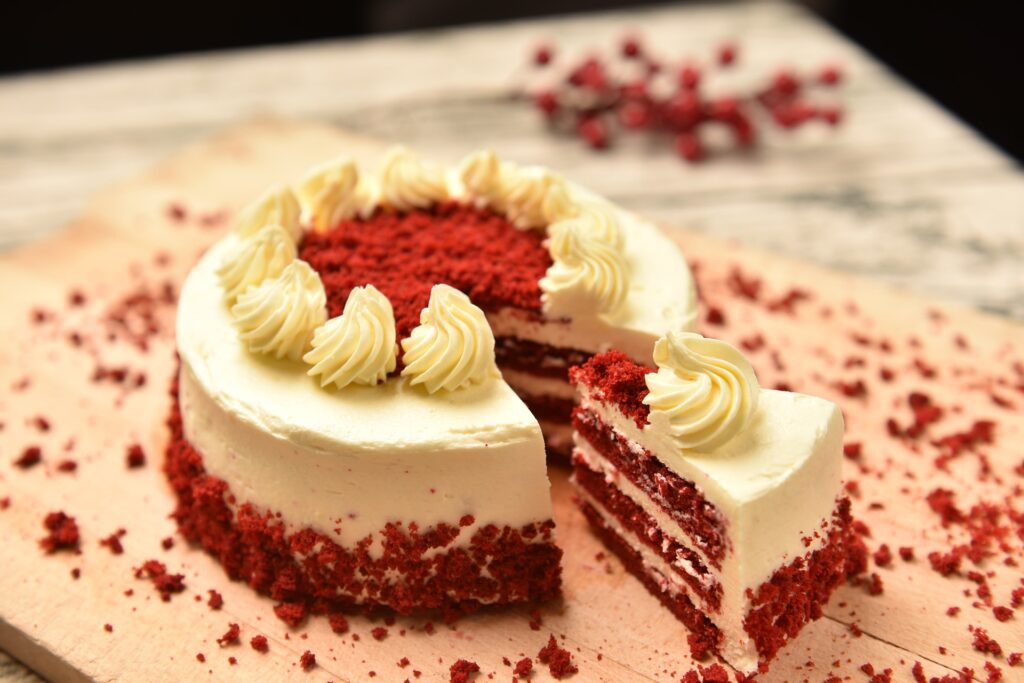 Read Also: Oreo Dishes to Try at Home
Recipe for Red Velvet Cake
In a bowl add flour, baking soda, cocoa powder, and salt together. Keep this mixture aside for the next few minutes.
Now in a separate bowl mix sugar eggs along with oil and beat well. Whisk the mixture properly and keep doing it until a balanced mixture is achieved. No lumps should be formed.
Here add the flour mixture and buttermilk along with the given quantity of vanilla extract and food color.
Now divide the entire mixture just prepared in three-round greased cake pans. Preheat the oven at 350 degrees Fahrenheit for approx 30 to 40 minutes.
To check whether the cake is baked, Insert the toothpick. If the toothpick comes clean it means the cake is well baked and ready for the next step.
Combine cream cheese and butter to prepare the icing . Add the icing sugar and whisk well until smooth.
Add 1/s teaspoon vanilla extract along with almonds.
As the last step spread the frosting in between the layers of the cake and on the sides. Keep the cake in the fridge to cool before serving.
Follow this easy red velvet cake recipe to give your loved ones a tasty treat worth remembering! If you are looking for a recipe for red velvet cupcakes, the above recipe holds true there as well. Instead of using cake pans, use a cupcake pan. Apart from that, everything is the same! So, whether you're looking to bake a red velvet cake or cupcake, you're good to go!
We would be like to receive your feedback on this recipe. Also, let us know of more recipes you would like us to post here for you.
For more interesting recipes, keep reading Entertainment's online food blog. You can also follow us on Facebook, LinkedIn, and Twitter for regular updates.
Read More at our Online Food Blog: