I am sure we all come across times when the guilt of throwing leftover food haunts us or rather makes us run our mind horses to make the best use of it. This article is intended to make your job easier. I have penned down some really appetizing Indian recipes with leftover rice that you can easily make with the leftover rice you made the previous day.
1. Rice pudding for your sweet cravings!
Ingredients Required
Leftover rice, milk, sugar, salt, cinnamon powder, elaichi powder, sliced dry fruits of your choice.
Preparation
Start by putting 2 to 3 cups of milk in a big pan with 2 to 3 tablespoons of sugar.
Now add your leftover rice in the pan, keep it on a medium flame and keep stirring at regular intervals.
A few minutes ahead of the above step, add the cinnamon and elaichi powder in the pan and let the rice pudding cook at a lower flame till it thickens.
Once the pudding starts thickening add crushed dry fruits and your pudding is ready to be relished. It can be savored both hot and cold after refrigerating.
2. Rice pakoras, the perfect tea time snack!
Ingredients Required
Leftover rice, chopped onion, green chili, ginger, coriander leaves, ajwain, cumin powder, coriander powder, turmeric powder, hing, besan, water, salt and oil for frying.
Preparation:
First of all, mash the leftover rice. You can also add a few drops of water if the rice appears to be really dry.
Mix all the ingredients mentioned above, namely besan, chopped onions, ginger, coriander leaves, green chili, salt and all the spice powders mentioned in the ingredients list to the rice.
Keep this mixture aside for 8 to 10 mins for the batter to blend nicely for a good taste. Meanwhile, put the pan on fire and put oil for frying.
You can now start putting the prepared batter into the oil pan with a spoon or bare hands and fry the pakoras while keeping it on a medium flame and fry them till it turns to light brown. Your rice pakoras are ready to serve!
Read Also: 5 Oreo Dishes to Try at Home
3. Lemon rice, a south Indian delicacy!
Ingredients Required
Leftover rice, freshly extracted lemon juice, mustard seeds, urad dal (1 spoon), 2 red chilies, green chilies, around 10 curry leaves, hing, turmeric powder, chopped cashews, peanuts, sesame oil (2 spoons), salt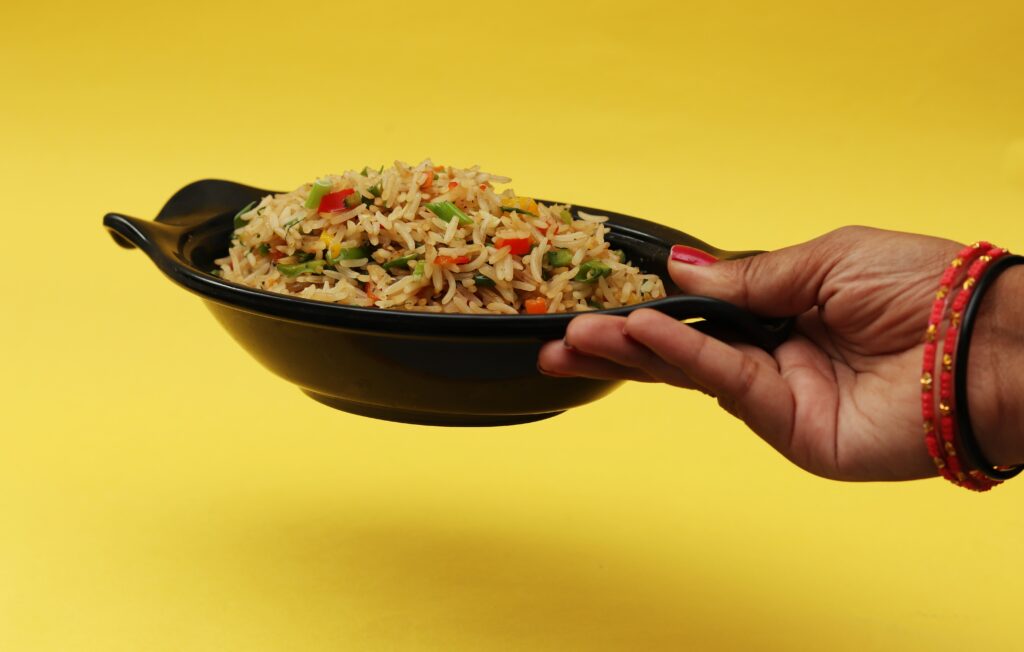 Preparation
First of all fry peanuts in the sesame oil in a frying pan and once done keep them aside.
Now fry cashews in the same oil and keep them aside too.
Now add 1 spoon of sesame oil and add 1 spoon of mustard seeds into it and let them crackle. Thereafter add one spoon of washed urad dal to it on a low flame. Keep stirring till the dal turns light golden brown.
Add all the spices mentioned in the ingredients along with the curry leaves.
Turn off the flame and then add a pinch of hing and turmeric powder in the pan.
Add the rice to the mixture along with the fried cashews and peanuts, lemon juice and salt.
Cover the rice pan and let it blend all the flavors for a good 5 minutes.
Your lemon rice is ready to be savored with pappads and coconut chutney.
4. Rice cutlet, another perfect tea snack option!
Ingredients Required
Leftover rice, mashed potatoes, finely chopped onions, green chili, coriander leaves, turmeric powder, red chili powder, cumin powder, coriander powder,garam masala, gram flour, salt and oil for frying.
Preparation
Put all the ingredients mentioned above in a big utensil along with the rice and mix them well.
Now add the necessary amount of salt in the mixture and shape this mixture into a medium-sized Tikkis.
Put the skillet on medium flame and once it is heated, spread three tablespoons of oil on it and place the Tikkis on it.
Once the base side of the Tikki turns light brown turn it to the other side and keep repeating this once the Tikki turns golden brown from both sides and feels crispy.
You can also remove the excess oil by pressing the Tikkis with clean tissue. Rice Tikki can be served with tomato ketchup to enhance the taste.
Kindly note: Use the spices aptly according to the quantity of leftover rice that you have.
Now food wastage is just no option. Make these delicacies. Don't forget to let us know how many of these Indian recipes with leftover rice you've tried at home in the comment section below!
Keep yourself updated on the latest food trends 2020 with Entertainment's Saga's online food blog. Follow us on Facebook, LinkedIn, and Twitter for regular updates.
Read More From Entertainment's Saga: