On the morning of 14th August 2019, IPS Officer and DCP Vikram Kapoor shot himself. This top Faridabad Police Officer allegedly commit suicide and mentioned that he was being blackmailed.
As per the note, the SHO (Station House Officer) Bhupani Abdul Shaheed and an associate was blackmailing the 59-year-old DCP.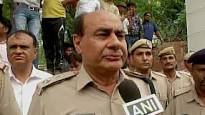 The IPS officer and DCP survived the incident, as his family was at home when he attempted to commit suicide. Two gunshots were heard by his wife. She quickly ran towards the sound, only to find Kapoor in a pool of blood. He had shot himself at his residence in Police Lines, Sector 30, Faridabad. Kapoor stays here with his wife. The couple has two sons.
The additional director general of police (law and order) – Navdeep Singh Virk – has confirmed the incident. In his statement, Virk mentioned that senior officials are investigating the matter and that the exact reason for the suicide is yet to be determined.
Source of Information: Hindustan Times
Read more from Entertainment's Saga:
Stay up to date about current events online with Entertainment's Saga.